A very special event with C.J. Sansom
November 3, 2018 @ 1:00 pm

-

3:00 pm

£20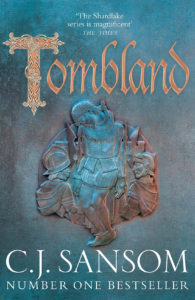 Norwich School and Jarrold, in association with his publishers, Pan Macmillan, are absolutely delighted to welcome C.J. Sansom to Norwich for a unique event to celebrate the publication of Tombland, seventh in the author's epic series of best-selling and critically acclaimed historical novels featuring the lawyer Matthew Shardlake.
Fans of the previous titles in the series have been waiting eagerly for a new Shardlake novel, but for a Norfolk audience the plot and setting of the book make this latest even more enticing: in 1549 Shardlake and his assistant Nicholas Overton travel to the summer Assizes at Norwich as part of their investigations into a gruesome murder. Here they are reunited with Shardlake's former assistant, Jack Barak. The three find layers of mystery and danger as a second murder is committed – and then East Anglia explodes, as a peasant rebellion breaks out across the country. The yeoman Robert Kett leads a force of thousands in overthrowing the landlords and establishing a vast camp outside Norwich. Soon the rebels have taken over England's second largest city…
In the perfect setting of the nave of Norwich Cathedral – which itself features in Tombland – C.J. Sansom will be in conversation with William Shaw about the book and there should also be an opportunity for audience questions. Although he will not be signing and dedicating books during the event itself all ticket holders will receive a copy of the book signed by the author.