What do you are you actually supposed to do when you're a writer-in-residence? Apart from write, that is?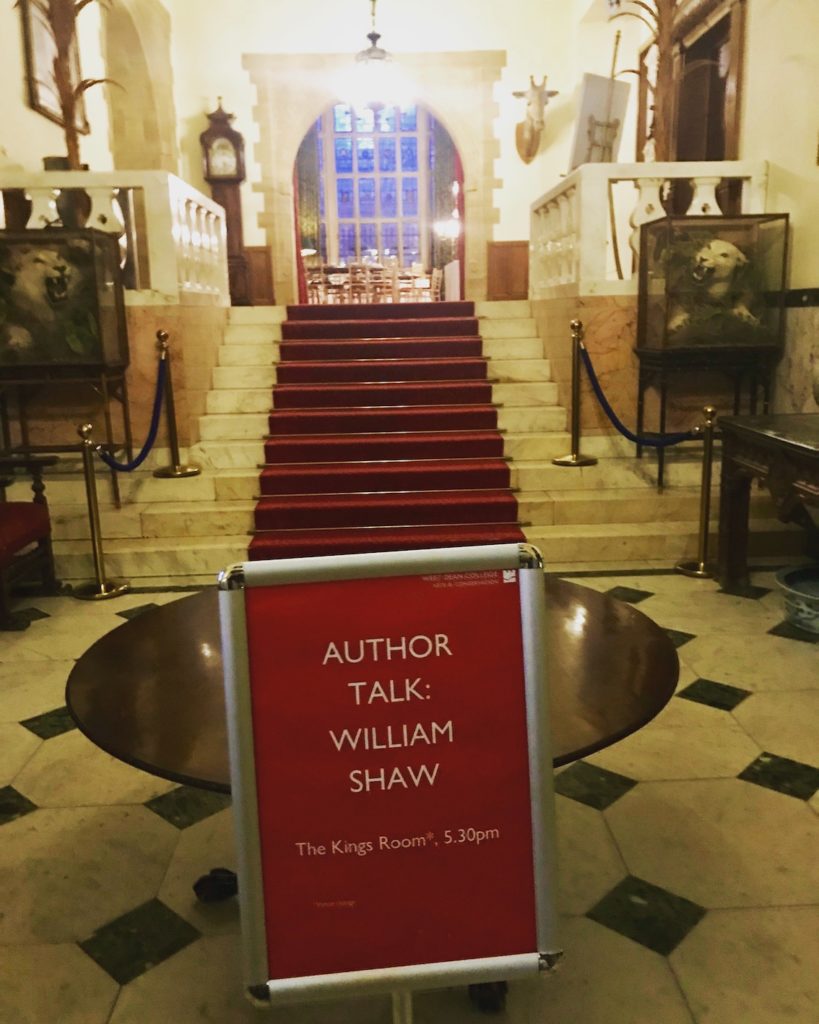 This week I've been lucky to be the writer-in-residence at West Dean College of Arts and Conservation in Sussex. It's an extraordinary and beautiful place; a college of the arts run by a charitable trust, set in a rolling country estate and housed in a stately (mostly) Victorian manor house surrounded by immaculate gardens.
I was given a nice room in a lodge, just outside the immaculate wrought iron gates, and so I wrote. And did some quite good work, I think. Even better, I met students, who were all also trying to write at West Dean. In amongst all the other course, West Dean runs excellent writing courses, taught by Domenica De Rosa/Elly Griffith, Lesley Thomson, Mick Jackson and Mark Radcliffe.
But writing is strange. Most students go to West Dean because of its reputation for making things; glass, jewellery, furniture, painting, fabric… When these people work, you can see them doing it; they have materials to transform and something to show for it. They have lathes and chisels and kilns and they make stuff you can touch. I'm jealous.
We don't much look like artists. Our raw material is intangible. We look like everyone else who sits in front of a computer for hours on end.
I realised by the Wednesday that maybe I should have asked for a desk, not in my lodge, but in the main hall, where visitors come and go. And I would have sat there, like a lemon, as an example of what writers look like.
In this grandiose hall, at the top of the marble steps, flanked on each side by the grisly heads of a lion and a lioness, hunted down and stuffed, I would have made an exhibition of myself, standing up, wandering around a bit, sitting down, getting up, wandering round a bit, getting distracted by Facebook.
I did do one thing though, that I couldn't have done anywhere else. This grand house seemed like good place to do some research.

For writers most research is simple. You read other people's books. Or you talk to people. It's a privilege to be able to do that.

I also like the way artists research. I worked alongside amazing curators and artists for a short bit of my career on the RSA's remarkable but sadly truncated Arts & Ecology project, and another project called Frame & Reference, a shared-space website which linked galleries like the Turner Contemporary, The Towner, the Jerwood and Pallant House. It was great being around real artists, who research in a very much more open-ended way, involving themselves in the world that they want to create stuff about. One of my favourite artists, Marcus Coates, who is interested in the natural world, once persuaded foresters to fasten him to the top of a tree so he could see the world as a hawk does. In trying to become close nature, his works often show how far from it we are. His piece Dawn Chorus is, I think, one of the most moving pieces of British contemporary art I've ever seen. As I was in this place where artists were at work, I thought I should do something equally open-ended.
I'm writing about badgers. In my book I want to write at least one chapter from the point of view of a badger. (It's hard to explain why – in this blog, at least. I hope that will become clear in the summer of 2020, when the book I'm working on is published.) So I thought I'd try and find some badgers at West Dean.

After all, this is a prime spot for badgers. It has two of their favourite things; hillsides and woodlands. I chose Monday night for a badger watch.
The point was, the chance of spotting a badger in January in a place where you're not really sure what their habits are is almost zero. The curious thing about badgers, is that though they're all around us in the countryside, they're very good at not being seen. Except, of course, when they're dead.
I have been reading a great deal about badgers so it was good to go out at dusk and see various signs of badger life. I found setts in the hillside, as well as subsidiary setts, the ones where badges retreat to during long nights foraging. I found a long trail that snaked under a fence and down a hillside. And I found many signs of feeding, where they'd used their snouts to lift the turf and dig for worms.
One of the reasons I want to write about badgers is that they are stubborn and have a strong sense of place. Build a housing estate on top of a badger sett and you are asking for trouble. They carry on their live exactly as they have always done, churning their way through fences and gardens. We're learning that badgers may have used the same setts and trails for hundreds of years. In an era which is all about change and stubborn resistance to change, they seem to exemplify something that I want to write about in my next book.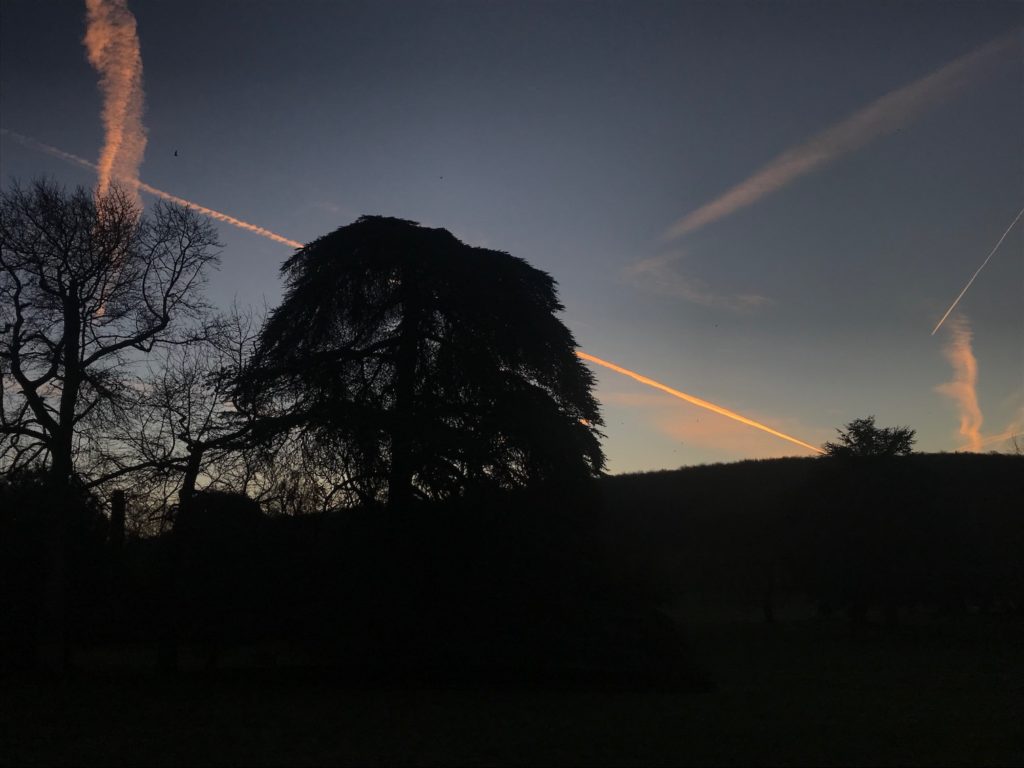 Darkness fell and I thought of Marcus Coates and tried to feel badger-like. They have poor eyesight, so I was at least seeing the world through their eyes. But I didn't see any badgers even if they were there. As I expected. But I didn't feel much like a badger, either.
I walked back down the hillside, and then towards the grand house. But before I returned to my room, I decided to try one last place. I had noticed a well-groomed lawn to the north of the grand house which was gradually being wrecked by badgers, nosing up the grass. There were little holes everywhere, particularly in one corner. They must be driving the gardeners crazy. Badgers are a protected species. If they decide to be on your land, there is almost nothing you can do about it.
I walked slowly in the darkness towards this spot, planning to shine the light from my phone onto the lawn when I was close enough. I imagined seeing the startled creatures, eyes reflecting in the light.
I was lucky that the wind was coming from the north-west, so I could walk into it. Badgers have poor eyesight, but one of the most amazing sense of smells. It's their main way of understanding the world around them.

Over several minutes, I crept forwards slowly, step by step, anxious to make no noise, phone at the ready.
And fell straight into an ornamental pond.
It is January. The water was cold. Any badgers that may – or may not – have been there, would have been startled off by my splashing and swearing.
I made my way back to my room soaked from the chest down. I have learned nothing. Or maybe I have; that inhabiting the dark world of a badger is not going to be easy.